SmartNutrition News Coverage
News Coverage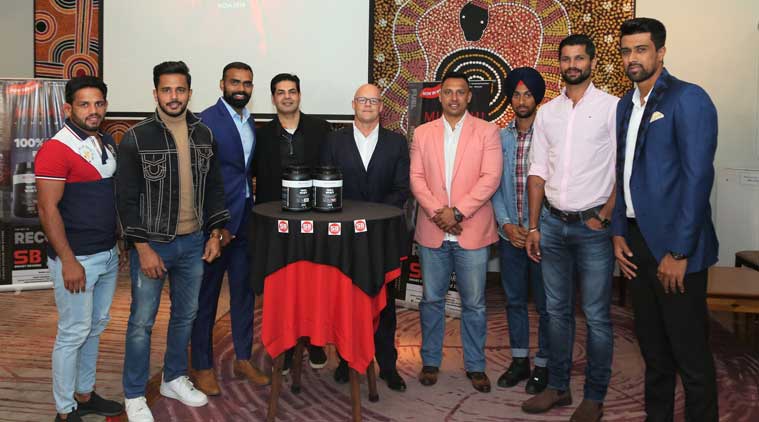 November 14, 2019
Elite Indian Athletes & Smart Brands Welcome Leading Australian Performance Nutrition Brand - 'Musashi' to the Expanding Indian Sports Nutrition Market
From Hockey-Rupinder Pal Singh, PR Sreejesh, Harmanpreet Singh, Hardik, and Jugraj Singh; From Wrestling-Amit Dhankar and from Cricket – Rahul Sharma was present on the occasion to show their support
Former Indian National Team coach Harendra Singh says Indian Hockey is thankful to Musashi and Smart Brands for supporting them over the years
With just a little less than a year to go for the quadrennial global sporting extravaganza – The Tokyo 2020 Summer Olympics, elite Indian athletes today welcomed the launch of leading Australian performance nutrition brand Musashi in India through their exclusive Indian partners Smart Brands.
Musashi holds a 32 year legacy in sports nutrition solutions, which are all informed sports tested for athletes, sportspersons and fitness enthusiasts. They have a vast range of tested for athletes' high-end quality products from their 100% Whey protein to their newly added Plant Protein.
Present at the event were athletes from various sports fields including Rupinder Pal Singh, PR Sreejesh, Harmanpreet Singh,Hardik, Jugraj Singh, Amit Dhankar and Rahul Sharma, all of them extended their seal of approval saying, "We are here to show solidarity to Musashi and Smart Brands. We have been using their products since the beginning of our career and has helped us improve our game throughout the years."
Smart Brands Products Pvt. Ltd has been fuelling Indian sports since 2005 with clientele ranging across various domains of sports like cricket, badminton, wrestling, hockey, tennis, and many other sports federations and academies.
Speaking at the launch Smart Brands Products CEO, Mr. Raj Makhija, said, "With the new FSSAI regulations for import of nutraceutical and health supplements in India now, we are proud and happy to be the exclusive partners of Musashi performance nutrition brand officially in India. There is a big gap in India for high end, quality and informed sport tested sports nutrition and finally with this partnership, the Indian athletes can have access to the products and tools to achieve their Olympic dreams and Sporting Dreams."
PR Sreejesh, goalkeeper of Hockey India Men's team, added "I am glad that Musashi has finally entered the Indian market. Their products has been my first choice and have helped me achieve many of my fitness goals. They have joined hands with Smart Brands which gives them a better reach in the Indian market. I am very happy that I got to be a part of this launch ceremony."
Rupinder Pal Singh from the Indian Hockey Team further added, "I am thankful to Smart Brands for providing me with supplements. They have gone out of their way to help the Indian Hockey team. The products will now be easily available in India and it makes our life easier."
Craig Kearney, CEO of Vitaco Health and Musashi, said "We are the largest protein-based sports nutrition brand in both Australia and New Zealand with about 30% share of the sports nutrition market. We are entering the Indian market as we firmly believe that India is becoming a growing nation in sports and we want to fuel the Indian athletes for Olympics, Commonwealth games and many other sporting events and add to India's Sports and Fitness success story."
Mark Morley, Senior Trade Commissioner and John Madew, Senior Trade & Investment Commissioner & General Manager South Asia who were present from the Australian Trade and Investment Commission said, "We are proud to be partnering with Musashi, a well-known Australian firm that has a reputation for clean, safe and reliable product for the sports industry. We welcome the launch of the product, and look forward to the future success of Australian brands in India"
Smart Brands will represent the Musashi brand to all health and fitness consumers across India via e-commerce, direct to consumer and organized retail across India.
About Musashi: Established in 1987, Musashi offers a full spectrum of sports nutrition solutions sourced from the highest quality ingredients. Driven by an obsession to innovate with scientifically supported and proven products, Musashi prides itself on strict quality control principles, assisting the performance needs of the elite to everyday athletes.
About Smart Brands India : Smart Brands Products Pvt Ltd, New Delhi, has been fuelling Indian athletes, sportspersons, sports teams, sports federations, academies, and more since its inception in 2005 . Recognized as the leading importer and exclusive representative of world class active nutrition and wellness brands from around the globe, to the Indian marketplace.
Smarts Brands clients include professional Indian Sports Teams, Clubs, Sports Academies, Olympic Athletes, sportspersons, fitness and wellness enthusiasts, as well as many elite TV and film celebrities across India.
Smart Nutrition is a division of Smart Brands, and, sports nutrition and wellness solutions in India that are all informed sport certified and compliant with FSSAI regulations.